paintings

photos

drawings

installations

sculptures

films / videos

exhibitions/
publications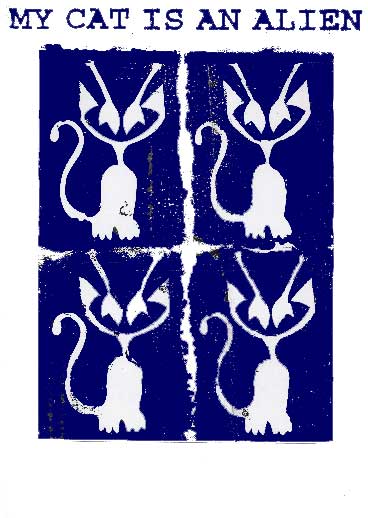 MY CAT IS AN ALIEN (MCIAA) are the outsider duo of experimental instantaneous composers and intermedia artists formed by brothers Maurizio and Roberto Opalio in 1998 in Torino, Italy, before moving in a secret region of the Western Alps.

MCIAA act through music, shamanic live audiovisual performance, cinematic poetry films & videos, painting, design, photography, installation, poetic writing, art objects, phonographic art editions and artists' books.

MCIAA's massive and highly innovative body of work earned them the cover of The Wire magazine.

More than 200 records have been released by the most prestigious avant-garde labels worldwide.

MCIAA take part to renowned international music festivals and museum exhibitions, among which "Sonic Youth etc.: Sensational Fix" (2008-2012).

They set up collaborations with many vanguard artists like Thurston Moore and Christian Marclay.

In 2017 MCIAA activate Xavier Veilhan's "Studio Venezia" project for the French Pavilion during the opening days of the 57th Venice Art Biennale.