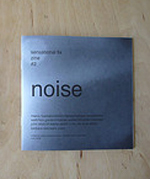 VVAA - SENSATIONAL FIX ZINE #2 : NOISE
2009 - art booklet (Sensational Fix)
The second publication of SENSATIONAL FIX is the zine SENSATIONAL FIX ZINE #2 'NOISE' to which eleven of the artists who participate in the exhibition SONIC YOUTH etc: SENSATIONAL FIX contributed a double page each. These artists are: Marco Fusinato // David Markey // Savage Pencil // Mike Watt // Kim Gordon // Marnie Weber // Christian Marclay //John Olson // Roberto Opalio + My Cat Is An Alien // Barbara Ess // Sam Crack.
Size is 148 x 148 mm and the edition 500 numbered copies in offset print. The zine is printed in black and white, and has 24 pages (cover included). SENSATIONAL FIX ZINE #2 'NOISE' has been presented at the opening of the exhibition at Malmo Konsthall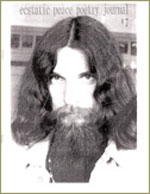 VVAA - Ecstatic Peace Poetry Journal # 7
2006 - Magazine (Ecstatic Peace)
Maurizio Opalio contributes a short writing entitled "Tenthousandsfeethigh"
Roberto Opalio contributes the poem entitled "There's a flame___sometimes"
"Brand new Spring/Summer 2006 issue of this great counter-cultural poetry journal edited by Thurston Moore and featuring new work from Twig Harper, Byron Coley, Christina Carter, Chris Habib, Ira Cohen, Richard Hell/Dave Shapiro, Loren Connors, Joanna Yas, Noel Black, Alan Licht, Richard Meltzer, Dylan Nyoukis, David Keenan, Lee Ranaldo, Charles Plymell, Matthew Wascovich, Jeni Olin, Roberto Opalio, Maurizio Opalio, Kyle Lapidus, Valerie Webber, Mike Watt, Angela Jaegar, Wooden Wand, Ian Nagoski, Richard Krech, Nick Henry, Jack Brewer and Mali Thep."